Mir – is a urban settlement of Karelichy district, Grodno region of Belarus. Township Mir is very rich in architectural monuments. It is here that is Mir Castle – the most important and most valuable tourist attraction throughout Belarus. Mir Castle was built in the first half of the 16th century, so the castle for almost five hundred years. Mir Castle is in UNESCO World Heritage Site. In the past, the castle has been completely renovated, although at certain points in its history he was in very bad condition. This is due to the fact that the Mir Castle was used in several wars in which it severely damaged.
Mir Castle has a very impressive size and appearance. Around the Mir Castle stretches spacious park with water features. In the township Mir comes a lot of tourists through it are many tour itineraries. Tourists really like this place. I must say that Mir Castle – one of the few attractions of Belarus surrounded by adequate infrastructure. There are a few restaurants and souvenir shops, and ample parking. The area around the castle is well landscaped, in the castle is a museum with a very good exposure. Also in the castle it operates a hotel.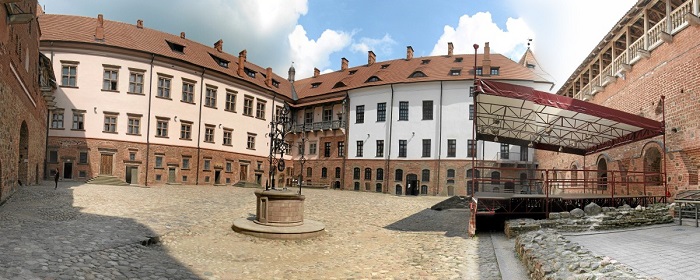 In the park stretching around the Mir Castle survived another interesting attraction – a chapel, which was built in 1904. Although the chapel was built much later and the castle yet this architectural monument perfectly fit into the surrounding landscape, and how even complementary lock.
There is in the township Mir and other very important sights. There are very ancient Catholic and Orthodox churches. These architectural monuments are very valuable components of the Belarusian cultural and historical heritage. Catholic church of St. Nicholas in the township Mir, was built in 1605. This church just breathes antiquity, inside the church there is some kind of medieval chills even in the hottest weather. The architecture of the church, which is perfectly visible from the castle, as it is made to match the castle. The church looks like one of the towers of the castle marked for some reason to the periphery.
The second historic attraction – Holy Trinity Orthodox church, built in the township Mir in 1550. Age of the church makes it an interesting for tourists. Indeed, Belarus remained not so much architectural structures which almost 500 years.
At the heart of the township Mir lies a few blocks a very interesting and attractive private urban end of the 19th century. Some buildings are even older than the 19th century. Among the buildings now make up the historic quarters of the township Mir there is a complex of buildings of the former synagogue courtyard. Now these buildings perform administrative and commercial functions. By the way, the objects are arranged complementary tourist infrastructure for travellers. Here, there and shops, and cafes, banks and a pharmacy, and ATMs, and more.